Finding the best steady source of
royalty free images
may prove to backfire on you later if you don't make an informed decision. So, whether you're a web designer, a blogger or a publisher in general, this fresh list of top 10 stock agencies may prove useful in judging which one is best for you.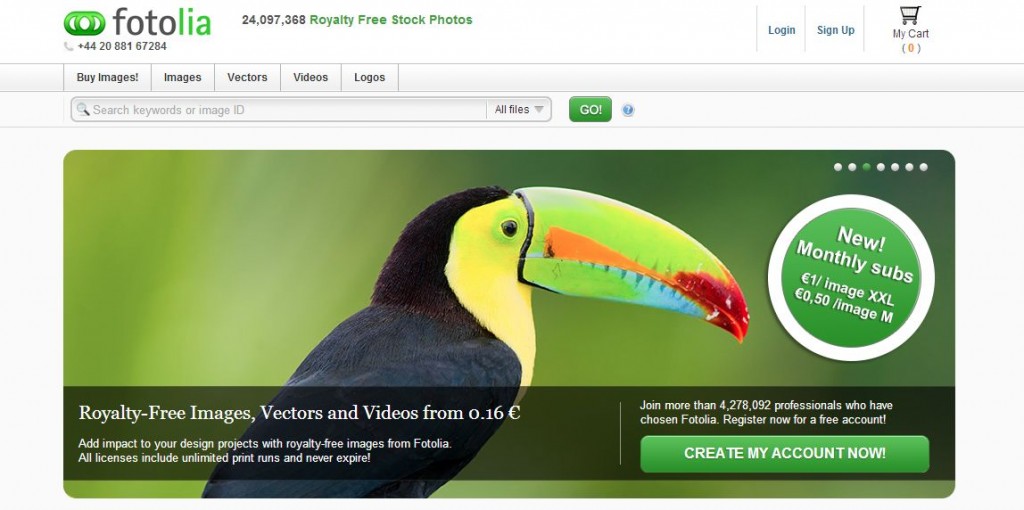 I have only appreciative words for Fotolia. As far as I am concerned, this agency is a first-rate
stock image
source, and I am just another fan joining in the collective cheering of 4 million clients. Fotolia has been doing a great job of making its customers happy since it launched in 2004. 24 million stock files now comprise the largest collection on the web, and anyone is free to browse through the gorgeous vectors and images without having to sign up first. Attention, please: Fotolia gives away freebie image downloads and comps for
planning projects
to try in a design, so these are really good reasons to visit.
When you register and wish to buy from Fotolia, there are two options available, namely subscriptions and credits. Going the route of credits would grant the user access to exquisite files from the Infinite Collection, along with enabling Extended Royalty-Free Licenses. And one credit is $0.74, which I deem to be really affordable. What is more, Fotolia also thought of the times when you have to make do with a small budget, and as such the
Low Cost
Collection has over 12 million images, which cost 1 to 6 credits (depending on download size).
The subscription path starts with choosing an Individual or Multiple Membership, and a Daily or Monthly type. Daily Subscriptions come with $0.19 for each download, and a daily limit of anywhere between 25 and 250. Monthly Subscriptions require that the user settle on a limit from 5 to 5000. A great thing about Monthly Subscriptions is that the unused downloads from one month simply Rollover to the next. Finally, Fotolia's BOGO offer states that the second month is free for a subscription of 5 images and $25 per month; click on subheading 'Fotolia' to redeem.

123RF is a magnificent source of royalty-
free stock images
for creative professionals. The agency's current count reached an impressive 22 million stock files, and with each new day another 35.000 make it on the shelves. Some of those daily uploads come from a channel called 123RF On-The-Go, a mobile application for spontaneous contributors. To be honest, everything I've seen looks wonderful.
Moving on to the best part, I'd like to inform you that 123RF has a free section of 30.000 photos, graphics, audio and digital files, where any registered user can download whatever her/his heart desires. Truth be told, I deem this free section to be the largest giveaway collection that I've ever seen from any microstock agency. In addition, 123RF's 100% Money-Back Guarantee is bound to make anyone rest assured, knowing that if they should reconsider a recently made purchase, there is always a safe way back. Precisely 72 hours are allowed for acting out on second thoughts about a certain acquisition. 123RF wants its users to find exactly what they need, and nothing else.
In order to buy an image from 123RF, users must engage in a subscription, or pay with credits. The Basic and Premium subscription plans are designed according to how long a period the users wish to sign. The stronger the commitment, the better: the allotted number of daily downloads scales up, and so do the discounts which kick in when buying an image. Alternatively, opting to buy via On Demand credits does not set a daily limit on image download rate.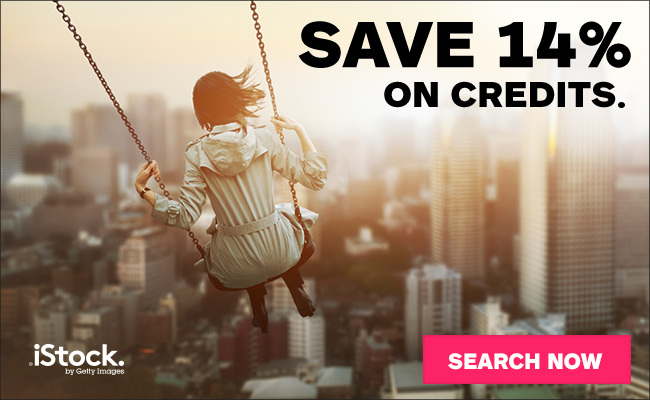 iStock is the original and universally acclaimed marketplace for stock photos. As far as I'm concerned, it's the foremost stock agency in the world. iStock launched 13 years ago, and presently it takes pride in its exclusive collection of 6 million photos, vector illustrations, Flash media, audio and video files.
The operative word for iStock is quality, not quantity. I need to underline the perfection I've stumbled upon in the Editor's Picks section, where fantastic recommendations from iStock's finest are displayed.On a similar note, it would be a good idea to visit iStock's Lightbox time and time again, as it features free images each week.
If you're on a quest to track down a certain kind of image, iStock's search box is remarkably rich in details, and it will present you with the exact match of your vision. At this moment, parts of the agency's exclusively available stock files are targeted with an offer you can't refuse: some of them at half the price. The reason why I'm so excited about this sale is that everything included in it does not exist anywhere else on the internet, and the price is downed by 50%.
To buy from iStock, one has to follow up on a subscription, or use the credit system. It's the latter option that I feel compelled to shed some light on. Firstly, a quantum of 15 to 30.000 credits can be taken in one shot, with discounts that go as high as 25%. Secondly, going the route of credits at checkout unlocks a significant benefit: with the code ISTOCK14, the price you have to pay drops down by 14%. Investigate further by clicking on the 'iStock' subheading from above.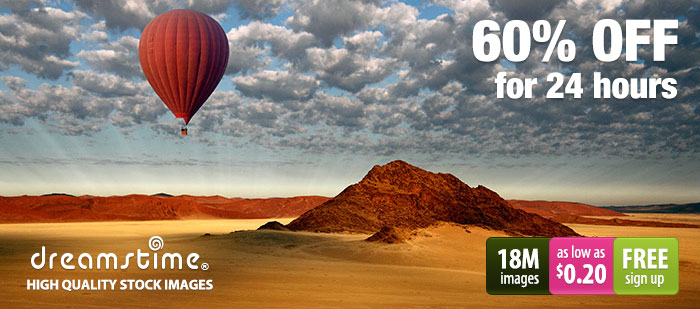 Dreamstime has been active for 13 years, and in all this time the agency managed to secure 18 million crisp vectors and images in its vaults. Striking a deal with Dreamstime is very advantageous to designers, because the agency created a whole free section just for them; as such, designers can download free photos,
web design
graphics, and illustrations from the multitude of files encased there. Looking past the designers' section, Dreamstime has yet another ace up its sleeve: a 60% discount for any purchase is available for the first 24 hours after a potential client's first visit; therefore, new customers have a whole day to buy high-quality images at the lowest price known to man.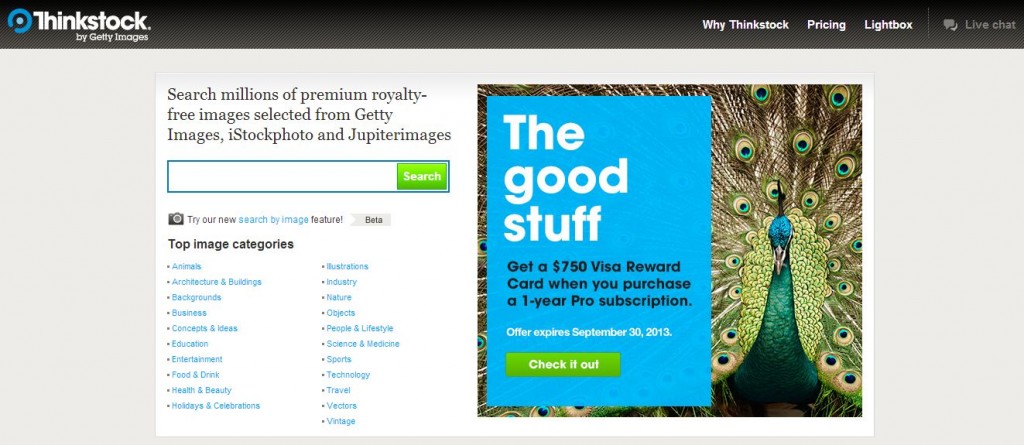 Thinkstock occupies a very special place in my selection of 10 awesome stock image sources. Its very existence is based on bringing together a multitude of royalty-free image providers in a single, grand hangout. A brand of Getty Images, Thinkstock unites the combined content of over 40 partners, such as Jupiterimages and iStock. The first positive thing about buying images from Thinkstock is the fact that prices never depend on the size of your download, which makes a size L just as affordable as an S. The second awesome fact about Thinkstock is the opportunity to save money when subscribing by using codes: R4HPC46N takes 20% off a Pro annual subscription, whereas GTDPC46N incurs a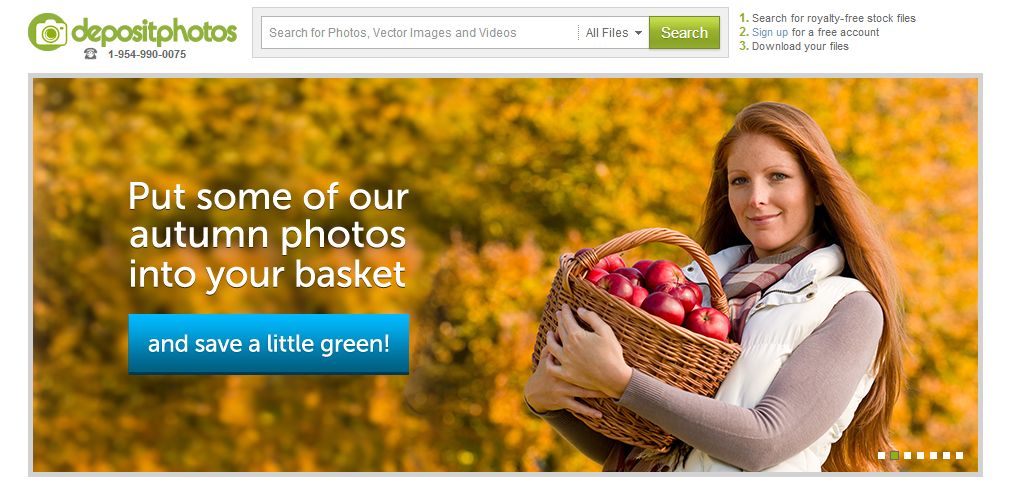 Depositphotos amassed 17 million, photos, vector images, and videos. The section devoted to vector illustrations has over 2 million rich EPS and AI files just waiting to be snatched, and free giveaways are assigned each week. Depositphotos has another alluring habit, namely that of commissioning season-specific images into their unique Sales Lightboxes, and so making them available for download at 20% discount. For example, the present moment displays 76 files in the Harvest Time collection. Buying from Depositphotos requires credits (pay-as-you-go at the rate of 50 credits for $50, which also enable Extended Royalty-Free Licenses), or a monthly/daily subscription starting with $0.15 per file.

Cutcaster is an exclusive source of stock vectors, illustrations, and photos. On first investigating their stock files, my first impression was that everything is so neatly organized in categories according to topic. Some of the collections which really caught my eye were the Crescendo Collection with its 920 gorgeous images, and Cutcaster's picture collections. It isn't compulsory to sign up if you wish to buy something; you can simply pay-as-you-go via paypal or credit card. On the other hand, going the route of credits can mean 49% off the standard price of a purchase, where a single credit is only $0.89. Credit bundles come with increasing discounts: 19% off for Bronze, 31% for Silver, and %39 for Gold.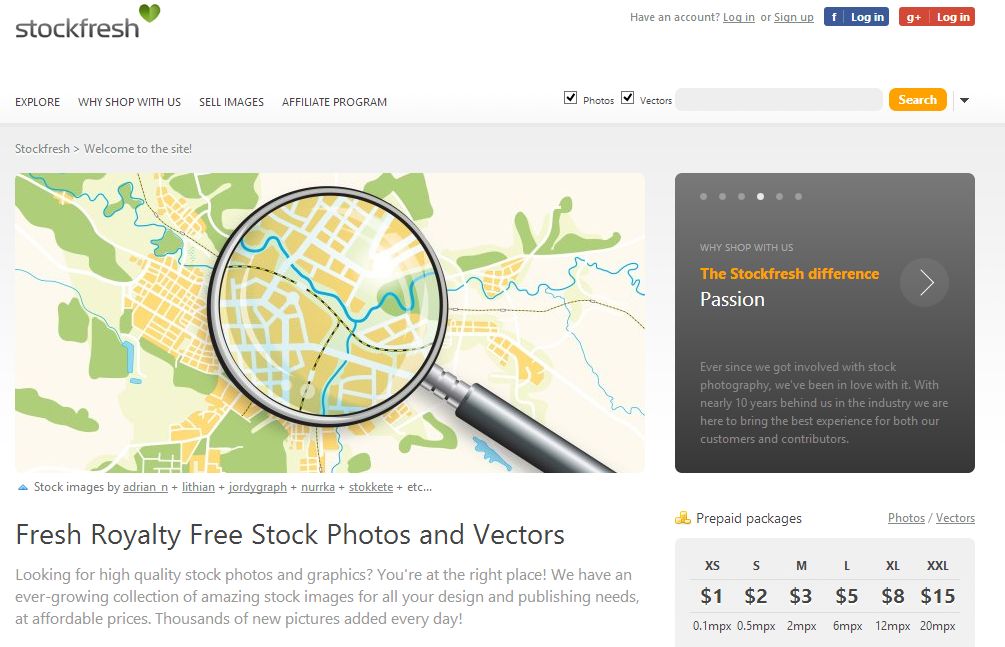 Coming from the makers of stock.xchng and stockxpert, Stockfresh harbors over 2.7 million stock photos and vectors. I strongly recommend visiting the section comprised of 300.000 gorgeous stock vectors, clipart, and illustrations. In terms of pricings, $4.99 translates into 5 credits, and the amount of acquired credits can go as far as 500 at once. Alternatively, a subscription is as little as $99 per month. I would like to add that delegating a search on the Stockfresh platform will turn up accurate and fast results; in fact, the whole user interface from Stockfresh seems to be built for speed, so members never waste time when they need to buy an image.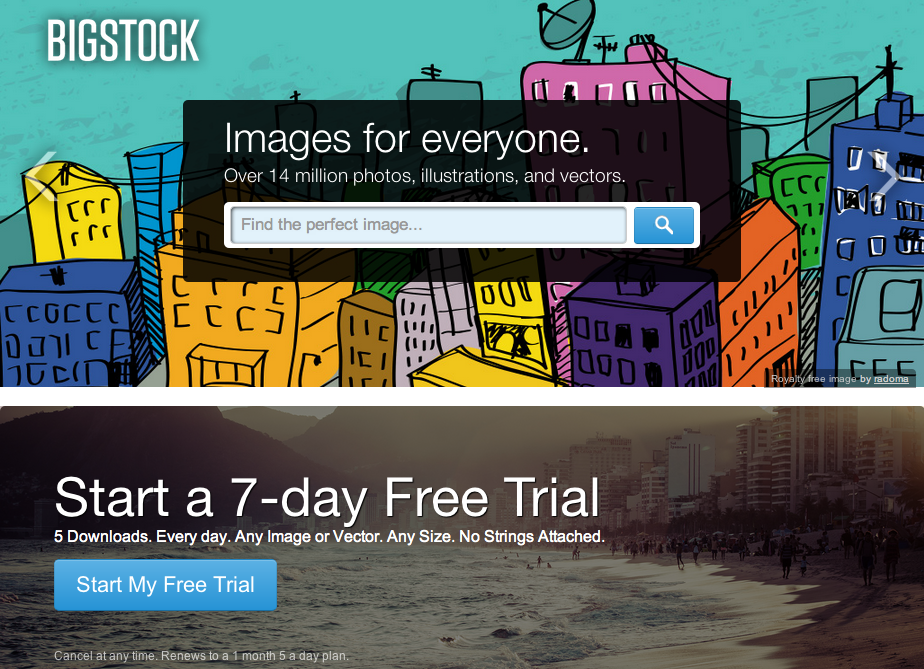 Bigstock brings my selection of precious stock image sources to a close. The agency places over 15 million illustrations, vectors, and photos at the disposal of creative professionals. Currently, Bigstock offers a 7-day Free Trial where potential clients can have a taste of what it would be like to get images from them on a constant basis. During the free trial, 5 images can be downloaded and re-downloaded every day, for a whole week (and you are free to cancel anytime). After the trial, if you want to buy from Bigstock, you can take up a daily subscription where the price of a stock image is only $0.35, or pay in advance for credits.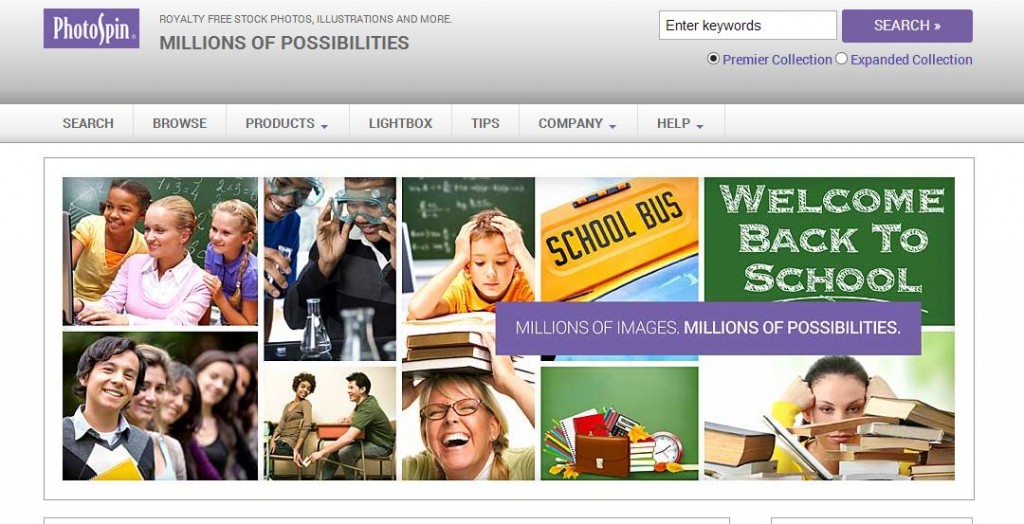 PhotoSpin has a unique way of making its royalty-free content available to users. Specifically, the stock agency has split the almost 4 million-strong database in twines, a Premium Collection of 1.5 million, and an Expanded Collection of 2.4 million JPEG and EPS files. The former is PhotoSpin's budget-friendly collection, which can be accessed after choosing either a Plus or a Super Plus character for all future acquisitions (and so pre-establish their size). The Expanded Collection is open after customizing a monthly subscription according to 4 categories, 4 time spans (1, 3, 6, or 12 months), and 16 various subscription plans.
Top 10 microstock agencies whence to acquire royalty-free images
Reviewed by
JohnBlogger
on
3:51 PM
Rating: