The internet is changing rapidly, and with more and more people engaging in website development, the process of designing a website has become very straightforward.
These days, different template services exist to make the task of creating a website easier. But as you may know, most of us have seen template services that have shabby design and customer support that is nothing short of a nightmare! That is why many of us stay away from such services at all costs. But thankfully, joomla-monster.com is different. The developers really know what they are doing, and the support system is just excellent. Here are the top 10 reasons why you must try Joomla Template at least once:
1. Simple yet professional interface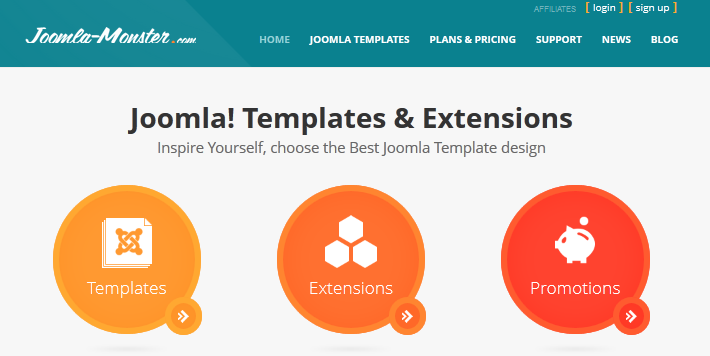 The Joomla Monster website interface does not require getting used to at all. Even if you are visiting joomla-monster.com for the first time, I assure you that you are going to feel like you have used the website forever! Moreover, the colors are vibrant and the overall design is very pleasing to the eyes. This website is one of the most professional and well-designed websites you will ever encounter.
2. Excellent collection of templates
A template website is nothing if it does not offer good templates. With Joomla Monster, you do not need to worry about getting ripped off. No matter what your website is, whether you are developing an online store for which you need e-commerce
Joomla template
or making a personal page that requires a very simple interface, you will have hundreds of excellent choices to choose from. And that is not exaggeration! There are also some really nice free Joomla 3.x & 2.5 templates.
3. Variety of packages
Sometimes, you may just need a single template, but someone somewhere else may require hundreds of different templates. Joomla Monster is aware of the different needs of different people. That is why you get to buy a single template for as low as $15 with 6 months of subscription or, you can go for collection templates that contain
a group of templates in a single collection
. Moreover, you can also choose to use any template without any limit.
4. No copyright trouble
Whatever package you choose, you are going to get totally copyright removed template. That way, your website will always be your own!
5. Lots of configurations and settings
The possibilities with any Joomla Monster template are endless. You can literally choose from hundreds of different configurations and settings to give your website the look and feel of your dreams!
6. Free commercial extensions
Joomla Monster utilizes lots of different paid versions of extensions. However, as a user, you do not have to pay a single penny for any extension. You can use all the extensions supported by your template absolutely free of cost. This provision for free Joomla extensions is one of the top selling points of their products.
7. Irresistible offers and discounts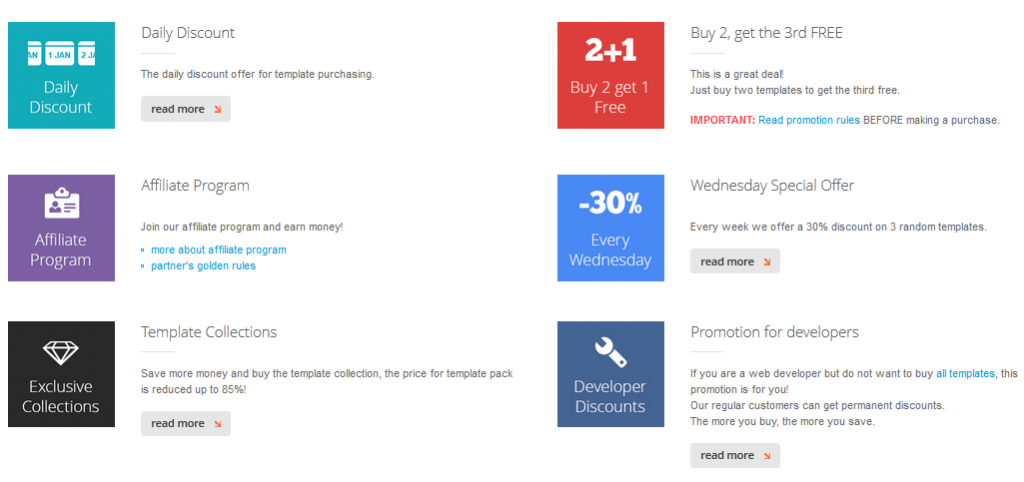 Joomla deals, promotions, discounts
etc. are evergreen! When you use Joomla Monster templates, you will have access to many offers. For instance, every Wednesday, you get 30% off on 3 templates. You also get 1 template free if you buy 2. Besides, there exist many other attractive discounts.
8. Prompt support
The support team of joomla-monster.com loves to help. The people are easy to work with. They will go out of their way just to make sure that you are happy and that you get it!
9. Easy payments
With the option of Paypal as well as Credit cards, you can easily make the payments in time! The process of paying for Joomla templates for tablets and mobiles is as simple as it can be.
10. Popularity of service
The quality of a service or a business is determined by its popularity. As Joomla is one of the most popular template services in the entire world, there is nothing wrong if you swear by it like thousands of other web developers!
Compared to other services that provide templates, Joomla becomes a winner in the sense that it has a truly large database of templates which are of stunning quality. You can get any type of template you want, and the customization options are almost endless. And the best thing of all, if you look at the pricing options, the affordability is clear instantly!
Top 10 reasons why everyone must use Joomla Monster Template at least once in life
Reviewed by
JohnBlogger
on
2:27 PM
Rating: