An exciting option by way of a video downloader that is available today is the
4K Video Downloader
. This latest software program is touted as one of the best choices for downloading YouTube videos.
The majority of the subscribers of YouTube enjoy countless number of its videos and entertainment features. Therefore, it only makes sense that viewers choose top quality viewing options in the format of choice. What is even more preferred is when the downloading aspect can be down with ease and the absence of any challenges whatsoever!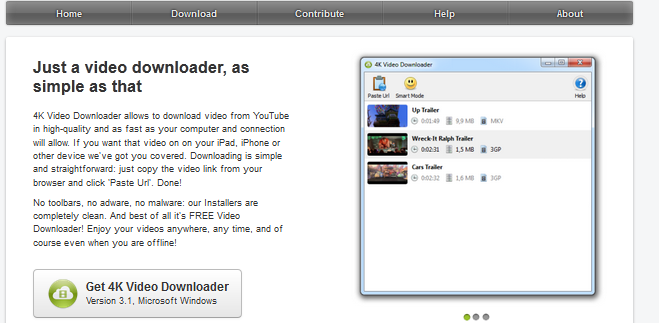 The 4K Video Downloader is a great application for downloading YouTube videos directly to your device in the format you desire without any hassle. If this sounds like what you have been waiting for, then search no more!
Easy downloading
This program makes downloading simple, simple, simple! There are no convoluted, go-arounds. All you have to do is copy the video link from the browser and click "Paste URL". Friendly, pleasant and easy: mission accomplished!
Multi platform
We have our preferred devices, and so more applications should be multi-platform compatible. Is the 4K Video Downloader software program friendly to your device of choice? You bet it is. Whether your favourite device is iPad, iPhone, or any other, the 4K Video Downloader works with you.
High quality download
Video quality means different things to different people. Some are inherently faithful to the highest quality at all cost while others are happy enough so long as they can watch their videos. The 4K Video Downloader lets you choose the quality that makes you most happy. Not only that, it allows you to select the quality you prefer for different videos.
This means that when the only quality of the video in question is not of the quality you normally select, you can still download it to your platform. It can download YouTube videos, audio and subtitles as well. The ability to choose is literally at your fingertips. That makes this Downloader a top contender.
All formats
Moreover, the 4K Video Downloader software program is free, open sourced, cross-platform and is currently available on Mac, Windows and Linux. . It is promoted as an application that does not install toolbars, adware, malware while offering to save videos in MP4, MKV, 3GP formats and can extra audio from YouTube videos in MP3, M4A or OGG, the latter being a free, open container format that is unrestricted by software patents and efficient in streaming, digital multimedia.
Keep checking for the latest versions of this 4K Video Downloader. The future looks promising!
4K video downloader – Best downloader for youtube videos
Reviewed by
JohnBlogger
on
12:35 PM
Rating: